An integrated approach to marketing has been crucial for businesses ever since the approach was conceptualized in the 1980s. The term Integrated Marketing Communication came into being in 1989, when the American Association of Advertising Agencies (AAAA) (Kliatchko, 2005) formally published the definition. Today, 'marketing' cannot be considered complete without its 'digital' counterpart.
With the pandemic still weighing on the economy, customers and businesses across verticals have taken to conducting business virtually as much as possible.
So what does it mean to have an integrated digital marketing strategy in place for your brand?
It means that your potential customer becomes aware of your brand, finds your brand when they search for products or services you offer, and becomes convinced (through various online feedback/review systems) that your brand is best suited to them and thus makes a purchase.
The retail, automotive, tourism, and software industries, among others, have embraced integrated digital marketing strategies that communicate relevant and consistent messages to their potential customer base through every digital avenue possible, including mobile marketing.
Integrated Marketing is an approach to creating a unified and seamless experience for consumers to interact with the brand/enterprise; it attempts to meld all aspects of marketing communication such as advertising, sales promotion, public relations, direct marketing, and social media, through their respective mix of tactics, methods, channels, media, and activities, so that all work together as a unified force. It is a process designed to ensure that all messaging and communications strategies are consistent across all channels and are focussed on the customer.
American Association of Advertising Agencies (AAAA)
The Buyer's Digital Journey
In simple terms, the buyer's journey depicts the stages through which a potential buyer progresses before they actually make a purchase. The buyer has some experience with the brand via brand communications at each stage. This is true even for potential buyers of an eLearning course.
Let's look at what other industries are doing. Nike, for example, created an immersive game (Reactland) that enabled potential buyers to test their new Epic React running shoes.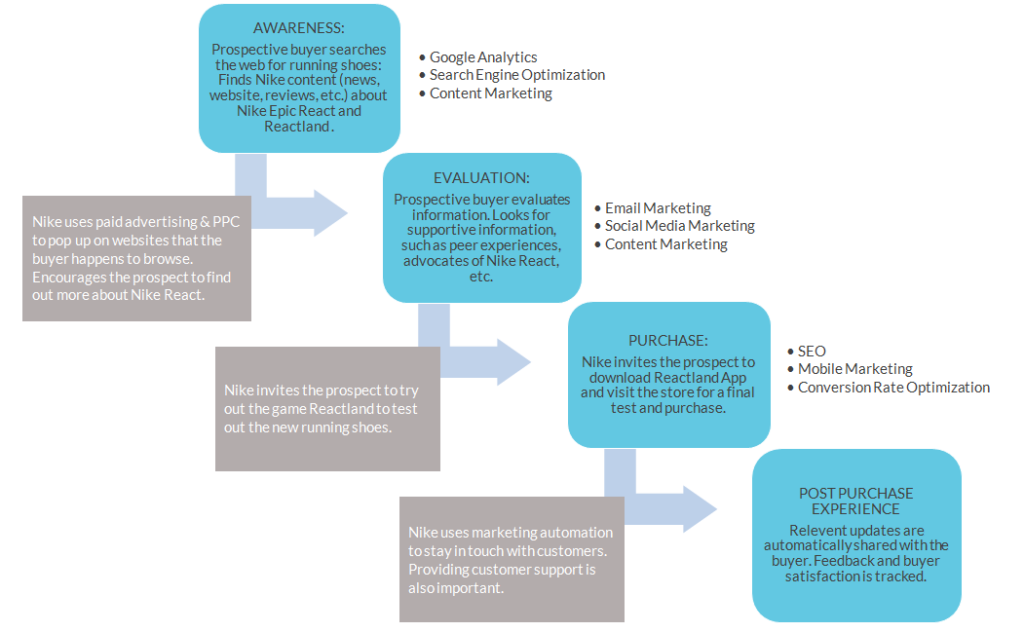 The Buyer's Digital Journey. Source: Adapted From (Hanlon, 2019)
The launch was supported by online news articles, search advertising, pop-up ads (or PPC), email marketing, social media marketing, SEM/SEO for their website, AI chatbots integrated with Facebook, and customer support. The strategy was completely integrated owing to the fact that Nike made sure that advertised information (such as prices, features and real-time stocks i.e. inventory) were accurate to the minute; and when someone clicked on a PPC ad or searched for the React shoes, they would land on Nike's user-friendly web-page or social media page where they could 'reconfirm' the messages they have been digitally receiving since the shoes were launched.
The result: A delighted customer! The integrated digital marketing strategy proved to be extremely successful, as evidenced by the number of purchases made.
Like Nike, many other brands have successfully cut their marketing budgets (Yes! Digital marketing is more economical than traditional marketing) and raked in the profits simply by assigning dedicated marketing employees to integrating their digital marketing communications.
On the other hand, recent surveys have found that eLearning firms are employing little or no effort into integrated digital marketing communications! A survey by Statista showed that 73% of students worldwide were unaware of the availability of massive open online courses (MOOCs) which are created at global standards and offered at very low prices.
The same is true for every learning firm! If your brand's courses (regardless of their quality or their target audience) are not visible online to potential learners, revenues will tend to remain at the lower end of the spectrum.
Your Digital Footprint and Quality Lead Generation
Since happy customers are the key to every successful business, let's look at a learning firm's performance through the eyes of a potential customer and what he or she expects:
Let's say Andy has been searching online for a short-term course on creativity. He finds your brand in the top 20 search results (search advertising and SEO/SEM) and finds that the course you offer is what he's looking for (content marketing). He isn't quite convinced yet, so he turns to social media (Facebook, LinkedIn, Twitter, etc.) to see how others have rated your course and what his friends and acquaintances have to say about your brand. If he sees that your page is redundant or has no relevant information, he's likely to drop the idea of enrolling in your course.
On the other hand, if you are active on your social media pages, have good reviews and have a great track record of student success, but do not have an integrated marketing plan, here's what could happen: an ad for a discount on your creativity learning package is published on Facebook. Andy is quite likely to click on the link to enroll. When directed to your website, he sees that there's no mention of a discount! Here too, Andy will probably drop the idea of enrolling – thanks to a lack of integration.
As you can see, every aspect of your digital marketing plan has to work in sync with one another, ensuring that the potential customer has a cohesive online user experience when interacting with your brand. Undoubtedly, your digital footprint has the potential to pull in high-quality leads and convert a large percentage of them into happy customers.
Incorporating an Integrated Digital Marketing Strategy for Your Brand
This means paying attention to your brand's digital persona 24/7. It means having dedicated marketing personnel to keep your brand image fresh and take care of every stage of the buyer's journey.
While the excuses to put off having an integrated digital marketing strategy can pile up (such as being a start-up or SME that simply does not have the resources or expertise), losing out on enrolments (sales) can end up costing a lot more.
That's why it's not a bad idea to enlist the help of integrated digital marketing services. Look for one that's familiar with the eLearning industry and suits your budget. You could engage them to run your entire digital marketing strategy, or if you already have some internal resources, you could ask for customized integrated digital marketing solutions that would work well for your business.
Investing now can pay high dividends in the long run, as your digital footprint will speak for itself in the years to come.